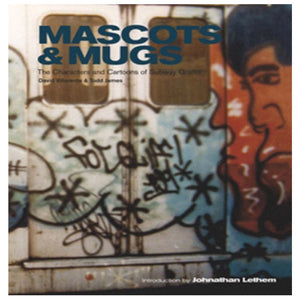 testify books
Mugs & Mascots: The Characters and Cartoons of Subway Graffiti
Regular price
$40.00
$0.00
Hardcover
288 pages/400 color
8.5" x 11"
Introduction by Jonathan Lethem. Text by David "Chino" Villorente, Todd "Reas" James.

The first book to provide an in-depth exploration of figurative elements in graffiti art.
In the graffiti world it's the name that brings the fame, but what about the figural components of this urban typography? Some of the most iconic pieces in the history of graffiti have earned their place in the street art pantheon with the help of masterfully rendered figures that lend additional presence to these works. Mascots & Mugs, brought to you by the publisher of the best-selling sneaker encyclopedia Where'd You Get Those? is the first book to examine figurative elements in graffiti art: It traces the history of key characters from the earliest examples by writers such as Stay High, Cliff 170 and Blade, to those of later masters like Mode 2, Doze and Tack.

Drawing inspiration from Saturday-morning television, printed comic strips and the dense urban landscape itself, graffiti writers created characters free from the constraints of their usual letterforms. The result is a host of outlandish visual sidekicks that, over time, have become so prevalent that any would-be king needs at least a few in his artistic arsenal. Filled with never-before-published photographs and rare artist interviews, this chronologically sequenced graffiti bible is a must-have reference work for anyone interested in cartoons, comics, graphic design or the myriad ways in which this self-taught urban street art has influenced today's contemporary art landscape. Also available in a deluxe, clothbound, slipcased limited edition with a signed screenprint of a classic "mug" from graffiti legend Doc TC5.
---
share this product
---
more from this collection